Pastor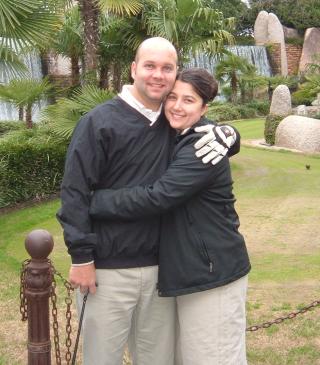 Biography:
Bro. Sibley received the Holy Ghost and was baptized in Jesus' name at the age of eight years old. At age eleven, his parents became pastors in South Lousiana. Upon completion of high school, Bro. Sibley felt God calling him to ministry and enrolled in Jackson College of Ministries in Jackson, Mississippi. Before he graduated in May of 1997, Bro. Sibley met Sis. Sibley, then DeAnna Webb, from Milton, Florida. Upon graduation, Bro. Sibley became Minister of Music at FUPC of San Antonio, TX where he also became involved in teaching home bible studies, and received his general ministerial license with the United Pentecostal Church International. On April 8, 2001, Bro. and Sis. Sibley were elected pastor of Medina Valley Christian Worship. Bro. Sibley received his ordination (the highest level of licensing) with the United Pentecostal Church in April of 2003. From 2007 to 2013, he served as Youth President of the South Texas District UPCI.
Interesting notes:
Both Bro. and Sis. Sibley's parents are in the ministry. Sis. Sibley's parents, Bro. and Sis. Webb pastor a church in Milton, Florida. Bro. Sibley's parents pastored in South Lousiana for 12 years. Their respective brothers are also ministers.
Bro. Sibley has a degree in music from Jackson College of Ministries and plays the piano, keyboards, organ, drums, guitar, ukulele, and bass guitar. Sis. Sibley also plays the piano. Bro. Sibley taught private piano and guitar lessons weekly for fifteen years and still teaches piano, choir, and music theory classes annually at various music conferences around North America. While in San Antonio, Sis. Sibley has been Children's Choir Director, produced children's Christmas musicals, and been very active in all phases of Children's Church. To many kids, she was better known as "Bo Diddley" the crazy clown. Sis. Sibley has also taught children's music classes at several music conferences. Both Bro. and Sis. Sibley still enjoy and are involved in teaching Home Bible Studies. Bro. Sibley is the lead instructor of www.BSharpTricks.com, a video based online lesson site, and has also launched a musical system to help churches called the

RPS Music Solution.
Bro. and Sis. Sibley have two beautiful daughters: Ajadiana Brie Sibley was born November 15, 2005 and Jasnia L'Nei Sibley came into the world June 24, 2009. Brownie, the lab/pitbull mix, came into our lives as a puppy as the result of a 2012 ladies' meeting.

Bro. Sibley enjoys spending time with his girls, golf, model trains (N scale, the PRR in the mid 50s), astronomy, chess, and collects books, coins, baseball cards, and Rubik's type, twisty puzzles. His favorite color is orange. Sis. Sibley collects dishes and dolls and is a very avid and talented seamstress and flower arranger. Her favorite color is purple!!! Both love the Word of God and enjoy studying the scriptures.